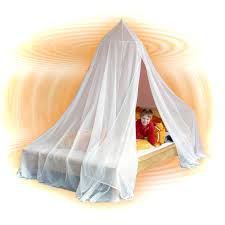 EMF radiation proves to be worse for those who are electro-sensitive. RF and electromagnetic radiation are rampant in our society which is turning wireless. People with hypersensitivity to EMF are unable to sleep because of this radiation. Many individuals with this issue have started using Faraday canopies as shields. But what is a faraday canopy?
These are similar to mosquito nets that can be fitted on your bed, to surround you as you sleep. It blocks or attenuates the EMF waves and therefore protects you from such harms.
How does it work?
A faraday canopy works on the principle of Faraday Cage. It is an enclosed metallic object which prevents EMF radiation from passing through it. The charged particles in the metal realign to cancel out the fields. The interior space of a Faraday Cage is neutralized and is free from radiation.
A faraday canopy is a brilliant way to create radiation-free zones in your house. It is typically used to avoid EMF exposure while sleeping. Some people are unable to sleep easily when they are exposed to radiofrequency or electromagnetic radiation. A faraday canopy works wonders for them and they can sleep almost instantly. Also learn more about EMF radiation on this blog EMF Guard.
How is a faraday canopy made?
Aluminium and copper metals are typically used to create Faraday Canopies. These are used in the form of wire meshes to create a canopy-like structure. It comes in different qualities and you should look for one that is made with a breathable fabric and is also comfortable.

Some bed canopies need to be grounded while others don't. They can be grounded by connecting a wire to a metal stake. These can also be connected to the earth terminal on an electrical socket in the bedroom.
Check out this: How are electromagnetic waves measured?
The best faraday canopy for EMF protection
The ideal faraday canopy should have the following features
Good shielding against EMF (up to 10 GHz)

It should be transparent and has great light and air penetration

Doesn't require to be grounded and easy to install
Can a faraday canopy shield 5G radiation?
5G uses higher frequencies comparer to 4G. It uses frequency around 7GHz. This means that the shield needs to be able to handle high-frequency radiation. Most good quality EMF protection canopies offer 90% to 99% attenuation at 7GHz.
This means that you can choose a suitable EMF protection fabric based on your sensitivity level and exposure to EMF radiation.
Related: How can I protect my home from 5G radiation?
Other applications of EMF protection fabric
If you want to shield the entire room or your apartment against EMF radiation, you can also create curtains, sheets, or protection covers using these fabrics. Curtains can shield your living space from the radiation emitted by power lines or nearby cell towers.
Shielding material is typically sold in 5 foot by 8-foot strips. You can either make it on your own, but it's always much convenient to just buy readymade EMF shields in various forms.
Conclusion
Faraday Canopy is a blessing for those who are exposed to excessive radiation. EMF radiation has produced different symptoms in people like painful sensations in the ear, headache, depression, insomnia, and so on. With a faraday canopy, one can at-least sleep in peace, without any exposure to EMF radiation.